Finn Murphy is the author of forthcoming Rocky Mountain High (W.W. Norton, June 2023) and The Long Haul, the national bestseller about his many years as a long-haul trucker. He grew up in Connecticut and now lives in Colorado.
Upcoming Events
There are no upcoming events at this time.
Past Events
Harbor Springs, Michigan ‑Harbor Springs Festival of the Book
Longmont, Colorado — Longmont Public Library/​Civic Center
Join Finn Murphy and the Longmont Public Library for a reading and book signing at the Longmont Civic Center, 350 Kimbark Street, Longmont, CO 80501
St. Louis, Missouri — Finn Murphy at The Novel Neighbor Bookstore
The Next Door Space @ The Novel Neighbor
7905 Big Bend Blvd
St. Louis MO 63119
Fort Collins, Colorado — The Old Firehouse Books
Finn Murphy at Old Firehouse Books in Fort Collins
Old Firehouse Books is delighted to welcome Finn Murphy to the store! He will be celebrating his latest book Rocky Mountain High: A Tale of Boom and Bust in the New Wild West on Wednesday, August 9th at 6pmMT. This event will be taking place at the store. Readers will have the chance to say hi to this amazing author and have their books signed. Books can be purchased in advance of the event, or on the day of.
Edwards, Colorado — Author Event at Bookworm
Steamboat Springs, Colorado — Library Author Series
Join Bud Werner Library & Off the Beaten Path for a progressive book event with Finn Murphy launching ROCKY MOUNTAIN HIGH: A Tale of Boom and Bust in the New Wild West.
Start this book event off at the pre-party from 4 – 6:30 p.m. at Off the Beaten Path (68 Ninth Street), where there will be drinks, stories and time to socialize with the author. Then saunter down the block to Library Hall for Finn's 7 p.m. book talk and signing at Bud Werner Library. Books will be available for sale at both events.
Albuquerque, New Mexico — Author Event at Bookworks
4022 Rio Grande Blvd NW, Albuquerque, NM 87107. 505−344−8139
Durango, Colorado — Author Event at Maria's Bookshop and the Rochester Hotel
Boulder, Colorado — Barnes and Noble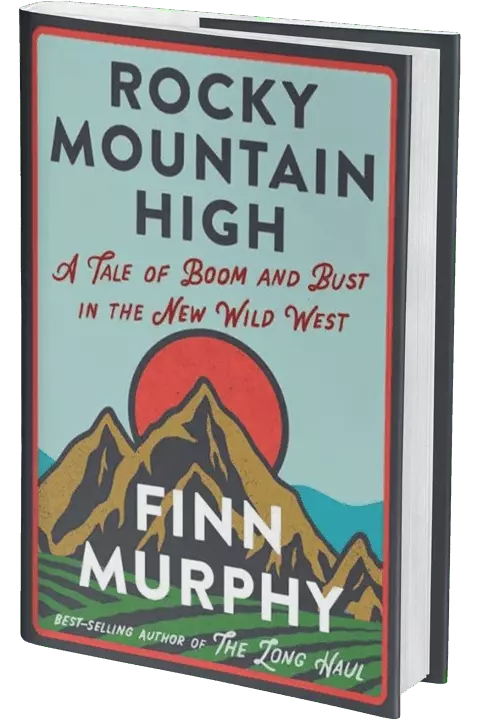 Available June 13, 2023
Order Rocky Mountain High Today!